The US Supreme Court's decision one year ago to revoke the right to an abortion has begun to take a toll on women's health in the United States, says researchers who have been monitoring the effects of the ruling. Although it is too soon to measure the full impact, a grim picture has begun to emerge.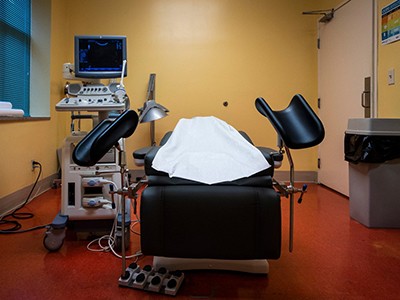 The effects of overturning Roe v. Wade in seven simple charts
After the court issued its decision, which overturned Roe v. Wade, a landmark 1973 ruling that had protected abortion access in the United States for decades, some states banned abortion. Surveys now indicate that people who experience pregnancy complications in these states have been put in life-threatening situations because physicians couldn't treat them properly. A study by the Society of Family Planning, an organization focused on abortion and contraception research based in Denver, Colorado, also estimates that in states with bans, such as Texas, Oklahoma and Arkansas, the average number of abortions has decreased drastically. But they have increased nearly as much in nearby states, such as Kansas, where abortion is allowed, because people travel there to seek care (see 'A post-Roe landscape').
This balancing effect means that, overall, the average number of abortions per month in the United States has decreased by about 3%. That might seem like a small reduction, says Caitlin Myers, an economist at Middlebury College in Vermont who has been tracking abortion access. But "what that means is that somewhere between one-fifth and one-quarter of people who are trying to get out of the 'ban states' to obtain an abortion aren't making it out", and are instead continuing with unwanted pregnancies, she says.
Anticipating change
After the Supreme Court issued its decision on 24 June last year, public-health researchers, having long studied abortion access, warned that financial hardships and health harms would increase for the country's most vulnerable, who lack the resources to travel for an abortion, or to raise a newborn. Researchers also predicted that the decision, known as Dobbs v. Jackson Women's Health Organization, would particularly affect those who would be unable to book telehealth appointments because of a lack of internet access, thereby increasing disparities.
Anticipating these changes, Myers and her colleagues have been monitoring the distances people now have to travel to get to the nearest abortion facility. According to their unpublished findings, 23% of US women who are of reproductive age have experienced an increase in that travel distance, and are now, on average, more than 300 miles (about 480 kilometres) away from the nearest provider.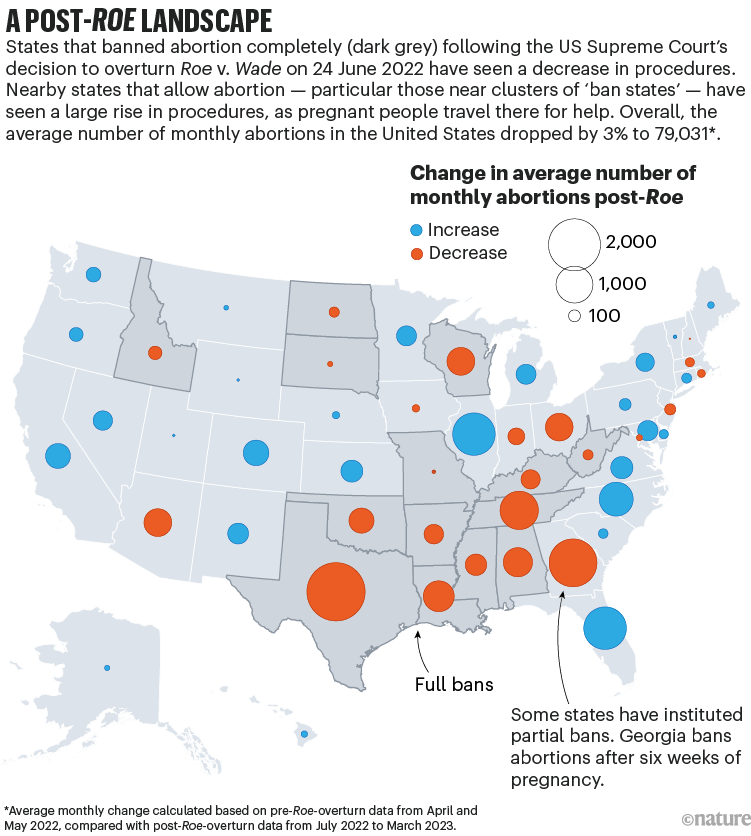 Kari White, a public-health specialist at the University of Texas at Austin's Population Research Center, has focused on the impact of the ban enacted in Texas. Before Roe was even overturned, the state had passed a law prohibiting abortion care after around six weeks of pregnancy, a stage when many people who are pregnant do not even realize it. At the time, it was the most restrictive abortion law in the country, and although it was the subject of legal challenges, the Supreme Court declined to block it, foreshadowing what was to come.
While the six-week ban was in effect, White says, "people were driving in the middle of the night, making a seven-hour trip out and back in a single day because they couldn't afford to take more time off work" to get an abortion. Now, with a complete ban in Texas and some neighbouring states, such as Louisiana and Oklahoma, sometimes the closest clinic is 600 miles away, she adds. In addition, because Texas also has a number of 'interior border checkpoints' — where agents surveil for undocumented immigrants — it is impossible for some people to make those trips, she says.
White notes that, compared with states where abortions are allowed, many of the states that ban abortions already had poor track records for maternal and child health before Roe was overturned, especially among people of colour and those with low incomes. She expects the disparities to worsen — although it's not yet possible to measure the exact changes, because births resulting from unwanted post-Roe pregnancies only started to happen earlier this year.
Shared experiences
Although one year isn't long enough to quantify some of the consequences of abortion restrictions, researchers have been interviewing health professionals to get an idea of the big picture. One such initiative, called Care Post-Roe, published its early findings in May.
Daniel Grossman, director of Advancing New Standards in Reproductive Health, a social-sciences research programme at the University of California, San Francisco, says that he and his colleagues launched the initiative because they had heard that health providers were being advised by their employers not to speak to the media. The researchers wanted to give physicians, nurses and midwives an opportunity to share their stories, albeit anonymously.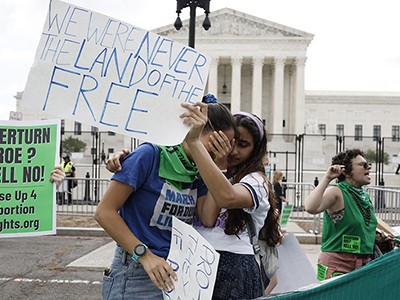 After Roe v. Wade: US researchers warn of what's to come
The initiative's findings so far suggest that, in states with abortion bans, the treatment of certain pregnancy complications has been compromised. For example, when a person's water breaks dangerously early in a pregnancy — before the fetus is able to survive on its own — the standard of care is to offer an abortion to prevent life-threatening infections. According to the providers' reports, however, in many cases, people had to be sent home and told to return when labour started, or if they had signs of infection.
In one case, an individual later returned to the hospital with sepsis and had to be treated in the intensive care unit. She delivered the fetus, but required a procedure to remove the placenta. "After everything she went through, the patient was still worried that maybe something either she had done or the physician had done could put them at risk for being prosecuted," Grossman says. "She asked him if this situation would be considered 'life-threatening enough', and that's just so shocking to hear. It highlights the fear that these laws have engendered among physicians and patients."
Researchers are only just beginning to monitor the long-term effects of being denied an abortion in the post-Roe era. Information they need, such as birth data for 2023, won't be released until next year. The goal is to use that data, Myers says, to estimate how many people who were "trapped" in states with abortion bans gave birth as a result.
Editor's note: Nature recognizes that transgender men and non-binary people might become pregnant and seek abortion care. We use 'women' in this story to reflect how participants are reported in the studies we cite.