An experimental drug can slow progression of Alzheimer's disease in those who start taking it when the disease is still in its early stages. The drug, a monoclonal antibody called donanemab, does not improve symptoms. But among people who started taking it at the earliest stages of Alzheimer's, 47% had no disease progression on some measures after one year, compared with 29% who took a placebo.
The drug does not provide as much benefit to people at later stages or those with a common genetic variation that raises the risk of the disease.
The results are "very encouraging", says neurologist Reisa Sperling at Harvard Medical School in Boston, Massachusetts, particularly because they are similar to those of a similar drug called lecanemab. "It makes me feel we are on the right track."
Donanemab's manufacturer Eli Lilly, based in Indianapolis, Indiana, presented the results of the 1,736-person trial today at the Alzheimer's Association International Conference (AAIC) in Amsterdam, and published them1 in JAMA. The company released partial results in May, but researchers still had questions about the drug's safety and efficacy in certain groups.
Sticky target
Like many others in the newest generation of Alzheimer's drugs, donanemab is a monoclonal antibody that targets amyloid, a sticky, neuron-damaging protein, in the brains of people with dementia. Donanemab, like lecanemab and the related drug aducanumab, can cause a condition called amyloid-related imaging abnormalities (ARIA), which sometimes leads to potentially fatal brain bleeding and seizures. Around one-quarter of the participants in Eli Lilly's phase III trial developed ARIA, and three died of the condition. ARIA was most common among study participants who carry the APOE4 genetic variation, which raises the risk of developing Alzheimer's.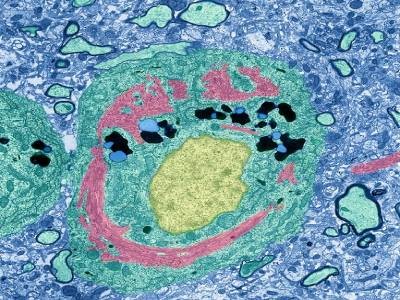 This is how an Alzheimer's gene ravages the brain
Participants carrying APOE4 benefited less from donanemab than participants who do not have the variant, the full data showed. And the drug works much better in people who start taking it when they have low levels of another brain protein called tau. Tau levels increase as Alzheimer's progresses, although its role in the disease is still poorly understood.
People with low or moderate levels of tau who took donanemab declined 35% more slowly over 76 weeks than those who took a placebo. But those with high tau levels declined at the same rate regardless of whether they took donanemab or a placebo. At a press conference at the AAIC, Mark Mintun, vice-president of neuroscience research and development at Eli Lilly, said that although it is important to develop better tests to determine tau levels, he doesn't think that physicians will need to evaluate a patient's tau levels before deciding whether to give them the drug.
Slowing the decline
In people with relatively minor cognitive impairment who started taking donanemab, cognitive decline slowed by as much as 60%. The drug also cleared around 90% of the total amount of amyloid from the brain. Once people had minimal amyloid levels, the investigators switched them to a placebo. In the year after the switch, those who had taken donanemab continued to decline at a slower rate than those who had initially received a placebo.
The results, say Sperling, demonstrate that people with Alzheimer's have a better outcome if it is diagnosed and treated early. She notes that clinical trials are testing whether lecanemab and donanemab can prevent the disease in people who have not yet developed symptoms.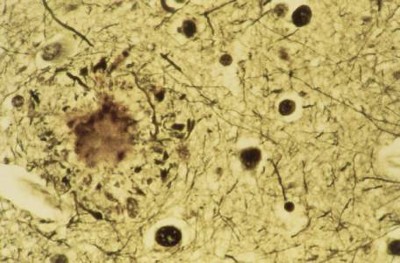 Alzheimer's drug slows mental decline in trial — but is it a breakthrough?
The finding is historic, says Bart De Strooper, an Alzheimer's researcher at University College London. "Everything in this trial tells us we need to prevent amyloid from accumulating." But De Strooper adds that the drug has been tested only in people with certain biological markers of Alzheimer's, and it might not be effective in others.
Brent Forester, a geriatric psychiatrist at Tufts University School of Medicine in Boston, Massachusetts, is concerned about how donanemab and other drugs will work in clinical practice. It's unclear, for instance, whether physicians should copy the trial design and take people off the drug once they no longer have amyloid in their brains. Screening for ARIA will probably be expensive and difficult, he says, as will identifying people who are most likely to benefit from treatment.
At the press conference, Eli Lilly's senior medical director John Sims said that the company has filed for approval by the US Food and Drug Administration and expects to hear back by the end of the year.
Sims and Mintun declined to comment on how much donanemab would cost if approved, but lecanemab and aducanumab have been priced at more than US$26,000 per year.