The US National Science Foundation (NSF) has announced a pilot project to track sexual orientation and gender identity (SOGI) demographics when it releases its yearly census of all recipients of research doctorates at US institutions this year.
The annual Survey of Earned Doctorates (SED), which launched in 1957, collects demographic information on the sex, race and ethnicity, scientific discipline, debt burden, disability status and citizenship status of new PhD recipients, among other information. NSF publishes the results on its website and shares this information with degree-granting institutions in the United States.
SED data has typically been used by government agencies, academic institutions and industry to track the careers of women, people of colour and people with disabilities in science, technology, engineering and mathematics (STEM). But to date, the SED has not looked into the career progression of scientists who are members of gender or sexual minority groups (LGBT+).
Collecting these data will help the NSF and other agencies to analyse employers' policies and procedures for addressing unintended barriers to employment, advancement and inclusion, said Charles Barber, NSF's chief diversity and inclusion officer, in a statement to Nature. "This gives us an opportunity to create more opportunities and broaden participation to yield equitable outcomes for the LGBTQIA+ community and others."
A long-standing data gap
The SED pilot will hit inboxes in July, when tens of thousands of PhD recipients will be weighing their post-graduation plans. SOGI questions will appear towards the end of the survey and will be parsed into 20 combinations, allowing the National Center for Science and Engineering Statistics (NCSES), a subdivision of the NSF that oversees the SED, to determine how the wording of questions and their ordering influence response rates.
Among the proposed questions are those asking for a person's assigned sex at birth and whether they currently consider themselves to be in a sexual or gender minority group. Another will ask people to identify their gender from a lengthy list of descriptors, including not just man and woman, but transgender, gender non-conforming, non-binary, gender-fluid and genderqueer as well.
In all, the NCSES expects that 52,000 respondents will complete the survey between 1 July and 30 June 2024, according to a spokesperson.
The agency has run smaller pilots of sexual orientation and gender-identity questions in workforce surveys, but such efforts have been met with frustration by some scientists. In 2018, NCSES had explored adding SOGI questions to its National Survey of College Graduates (NSCG), which polls roughly 165,000 students every two to three years. The final version released in 2021, however, contained no questions related to sexual orientation, and only a subset of all participants received pilot questions that allowed them to identify their gender as anything other than male or female. Typically, 'male' and 'female' refer to biological sex, whereas 'man' and 'woman' are used to specify gender identity, placing the SED's wording at odds with common perceptions of sex and gender.
After the NCSES submitted a draft of the NSCG, which many found unsatisfactory, to the US Office of Management and Budget for approval in December, more than 1,700 scientists signed an open letter calling for the agency to release the full results of its pilot research. The letter asked the agency to include expanded gender and sexual-orientation questions in its 2023 national workforce surveys.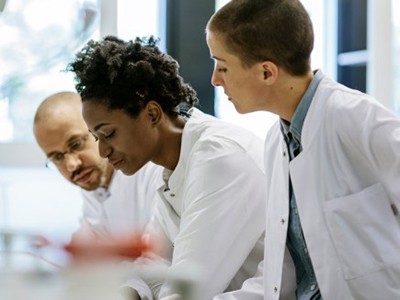 Collection: Diversity and scientific careers
Alfredo Carpineti, a science journalist in London and a former astrophysicist who founded the UK-based charity Pride in STEM, says that his organization is pleased by the decision to survey LGBT+ communities, particularly in light of policies in several US states that have banned gender-affirming care for transgender people or tamped down on diversity, equity and inclusion initiatives in higher education. "The current steps taken by the NSF on collecting SOGI data are positive," he says, "but it's not the end of the discussion." A plan to incorporate SOGI questions across surveys, for example, could do better at identifying the points at which LGBT+ scientists are dropping out of STEM or are facing other challenges.
Paulette Vincent-Ruz, a chemistry education researcher at New Mexico State University in Las Cruces, echoes the point that, in general, collecting data on this community is good. Having information on the specific challenges that LGBT+ scientists face will make it easier for the community and its allies to advocate for change. Earlier research, for example, has shown that there are about 20% fewer LGBT+ people in STEM fields than is statistically expected. They also experience more career barriers than do their non-LGBT+ peers. Yet federal agencies have been slow to acknowledge these challenges by collecting data of their own. "In a world where scientists live by data, and where data is the way we make decisions as a country, not collecting this information is making us nonexistent," she says.
Drafting an inclusive survey
Scientists have previously raised concerns over how SOGI data should be collected, including transparency around how the questions are created and whom to consult during the process. Vincent-Ruz, whose research includes quantitative methods for tracking equity in science, says that wording can have a huge impact on whether people respond. "There's a lot of work showing that the way we currently collect data on LGBT+ students is perceived as violent to their identities," she says. Questions that offer 'trans' as an alternative to 'male' or 'female', for example, needlessly position trans people as 'other'. People might also perceive a question as contributing to their own erasure when they don't see their identities reflected in the list of answers. As a result, many people simply opt out of responding.
Those who research equity issues feel that, to increase participation, survey developers should consult with those they're looking to study. One proposed question, for example, asks participants to identify the sex on their birth certificates, yet many states allow people to modify their government documents to align with their gender identities. It's unclear, Vincent-Ruz says, why that information is relevant to NSF, or what the 'correct' response would be.
The SED also stands apart from other NCSES surveys because its findings are shared with degree-granting institutions, and not every LGBT+ scientist is comfortable disclosing their identity to either the government or their employer, says Julie Johnston, an environmental engineer at the Georgia Institute of Technology in Atlanta. She co-authored a preprint on how to make conferences more inclusive for queer and trans attendees. The total number of scientists in academia who identify as LGBT+ remains unknown, but it's probably a small number at any given university, meaning that anonymity isn't always guaranteed. "When you share data at the university level, or at the college level, we might only have pseudo anonymity, which is why some people might not be responding to these surveys," she says.
It's especially important, then, to weigh privacy when asking people who are members of minority groups to submit sensitive personal information, according to Z Nicolazzo, a social scientist at the University of Arizona in Tucson, who researches trans studies in education. "I'm glad that they want to get a deeper sense of who is earning doctorates," she says of the NSF. "But whenever people want to collect demographic information, I would ask, for whom is the data being collected and to what ends?" She adds that, even if surveys are designed to be inclusive, people might opt out over fears that their information will be leaked to colleagues. "I think there are ways to share information that's slightly disaggregated, but not fully disaggregated, that might be more comfortable."
John Finamore, a chief statistician with NCSES who oversees the SED, says that he's listened to these concerns throughout the research and design process. He has interviewed members of LGBT+ communities to inform the test questions, responded directly to public comments and published documents that outline the agency's processes and best practices for tracking sexual-orientation and gender data in its surveys. To protect the privacy of respondents as the NCSES analyses its findings, the agency will not share answers to the pilot questions, although it will publish a summary of the findings in the third quarter of 2025, according to a spokesperson.
Depending on the pilot's results, SOGI questions could be included in the 2025 SED, meaning that the first data set on LGBT+ scientists could be available in 2026. In addition, the NCSES will include questions on gender identity as part of the 2023 NSCG while continuing to test questions related to sexual orientation. The next cycle of the Survey of Doctorate Recipients (SDR), which is given to scientists who previously took the SED and are now at a later career stage, will test various SOGI questions as well.
Although the agency has been accused of using bureaucracy to slow the roll-out of SOGI questions, Finamore adds that the pace has been intentional. "These things take time to get right," he says, and are "a constant effort within the federal business statistical system." Inclusivity, in particular, is an evolving space filled with changing language. "We're trying to incorporate that into our research to really make sure that people do see themselves in our questions," he says, while generating data that are useful for policy discussions.