In the northeastern U. S., where I roost, we've entered what birders sometimes refer to as the summer doldrums. Spring migration has wound down, and fall migration hasn't started yet, so the thrilling glimpses of rare species traveling between their breeding and wintering grounds are few and far between. And many of the birds that breed here are keeping a low profile while they take care of Important Business back at the nest. There are still marvelous things to see. But sometimes the behavior isn't what it seems at first glance, as I was recently reminded.
I was walking on a beach in the Midcoast region of Maine in the early evening, the sun still bright in the summer sky, when I spied two small terns at the water's edge—Least Terns, which are endangered in Maine and imperiled throughout much of their range in North America. One was feeding the other tiny fish. Based on the behavior, I figured they must be parent and baby and stopped to admire them. But then I realized they were both in breeding plumage, with a white forehead and a bright yellow bill and legs. The behavior I was observing wasn't parental care; it was courtship.
Glad that I had remembered to grab my binoculars and camera on my way out the door, I settled in to watch the birds. Here's what I observed:
The female stands on the beach watching the male as he forages for fish in the shallows. She calls repeatedly, I suppose to remind him of her whereabouts (and perhaps to cheer him on).
The male flies up and down the shoreline, with his eyes on the water below. When he spots a fish, he hovers overhead for a few wingbeats, then plunges beak-first into the water to nab the unsuspecting prey. He surfaces, fish in beak, and flies back toward the female.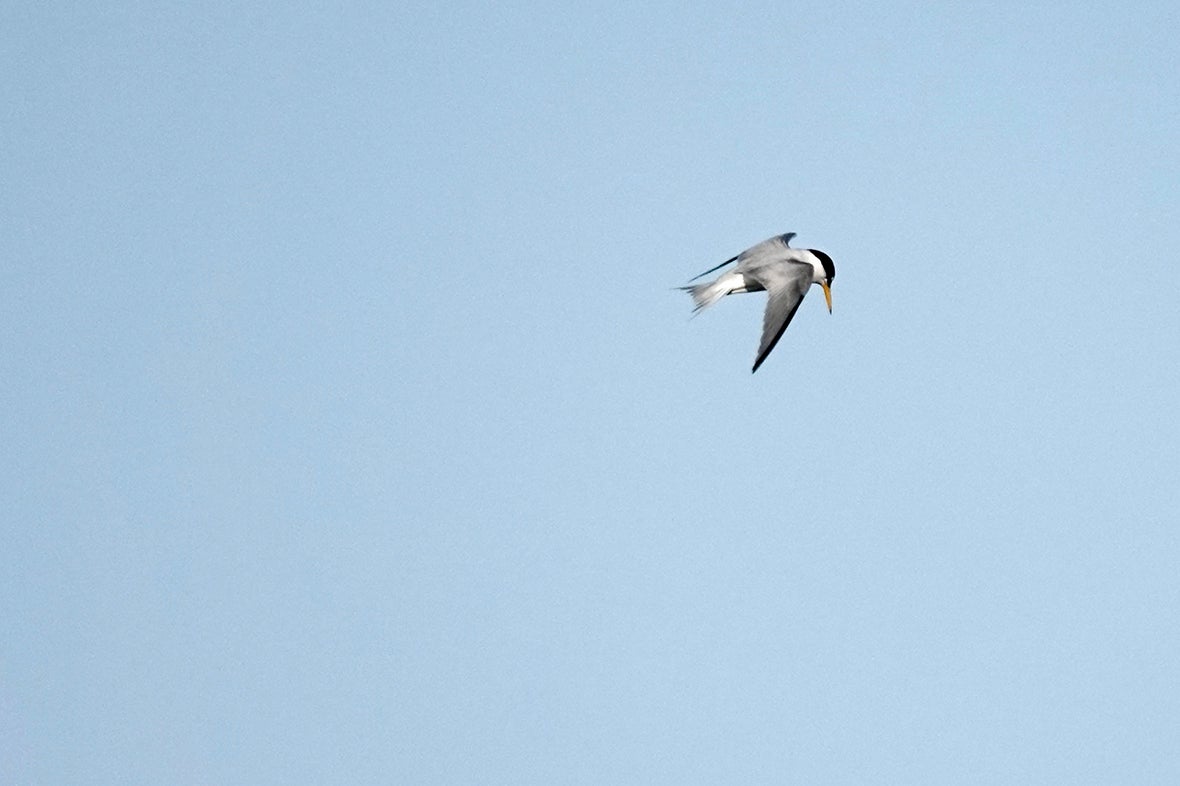 As he approaches, there's a lot of excited squawking—it's not exactly clear who's making the ruckus, but the male has got a precious parcel in his beak, and the female is about to receive it, so I'm guessing the sounds are coming from her.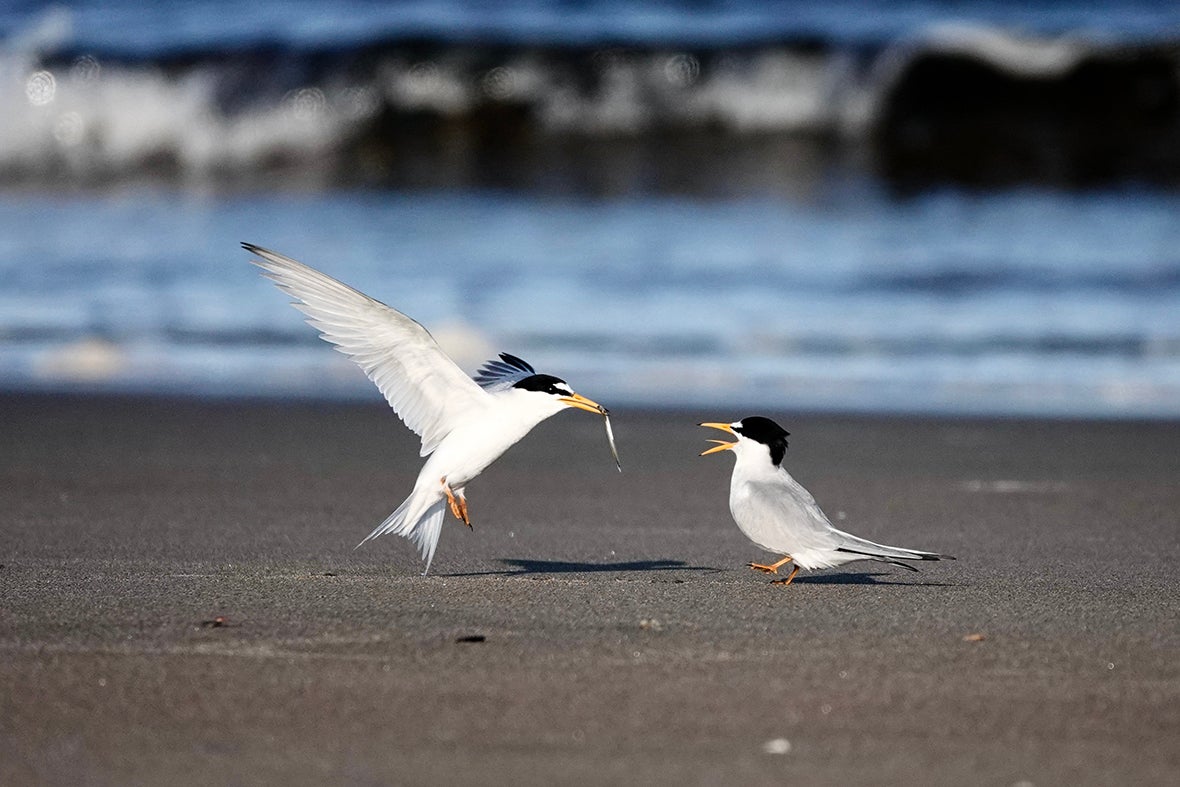 The male lands next to her and places the slim, silvery fish in her beak.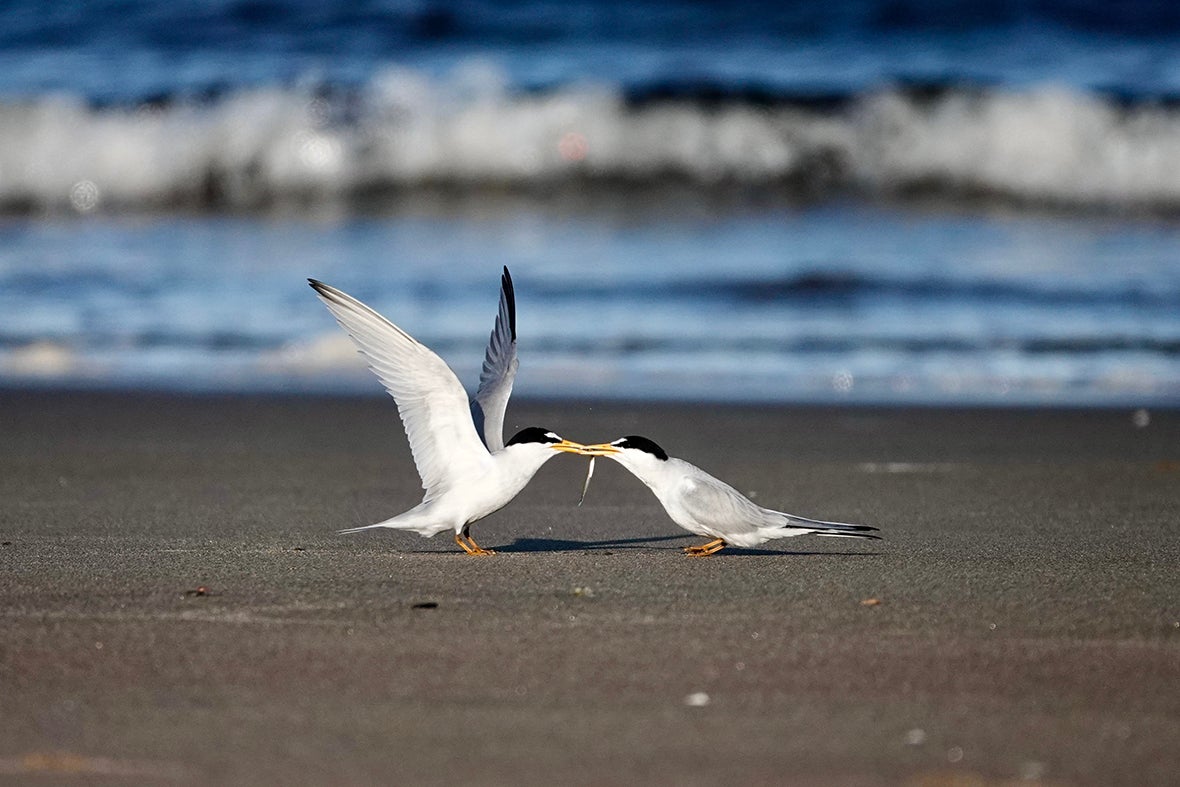 While she gulps it down, he strikes a pose—chest out, long wings held high.
And then he's off again to get her another one and hopefully win her heart.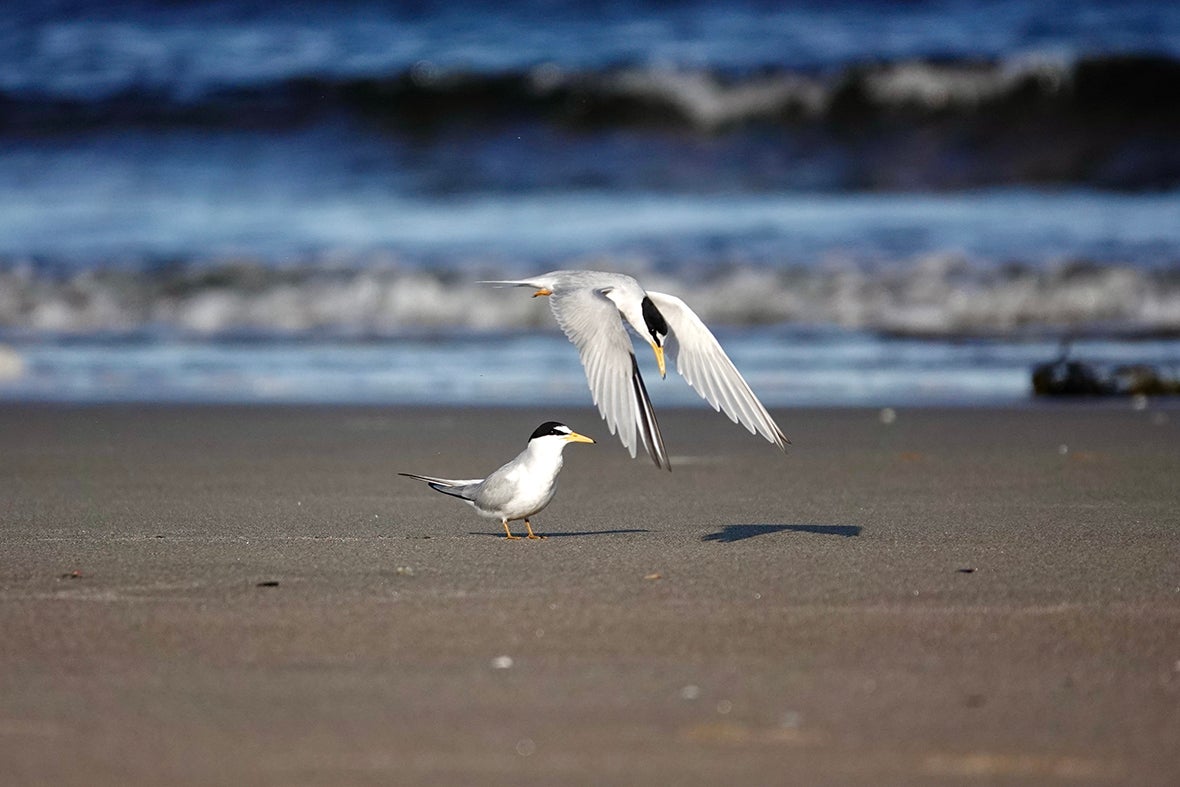 Over the hour or so that I spent watching them, the male brought the female more than a dozen fish and didn't appear to eat any himself. Then the pair flew off into the sunset together—hopefully to make the next generation of Least Terns.