Turkey's researchers are calling for the abolition of a government-run council that they say has too much control over the nation's universities, ahead of presidential and parliamentary elections on 14 May.
The Council of Higher Education, known as YÖK, was established in 1981 after a military coup. Although Turkey has had many elected governments since 1983, YÖK continues to exist. It approves teaching courses, decides who should be appointed to faculty positions and sets student numbers.
"All these things should be decisions made by the university itself," says Canan Atılgan, a biophysicist at Sabancı University in Istanbul.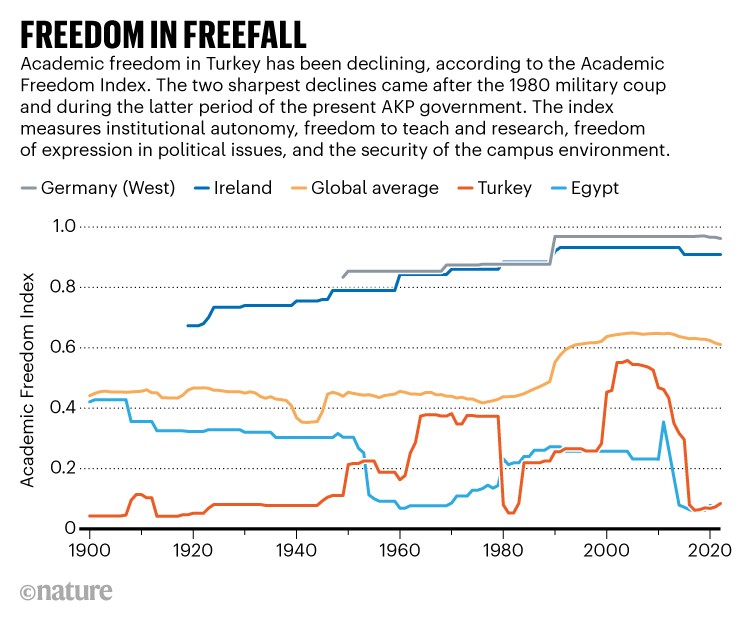 Last June, academics from 13 Turkish universities held a 2-day workshop in Ankara to discuss how to restructure Turkey's higher education. They produced a report that was submitted in December to all political parties, calling for YÖK to be replaced with a new body, which has more limited functions. An alliance of six opposition parties, called the Nation Alliance, led by Kemal Kılıçdaroğlu has agreed to implement this recommendation if it wins the closely fought election.
The replacement for YÖK would set higher education policy, without interfering with institutions' academic, administrative, and financial autonomy, the report says. It would also help newly established institutions that are understaffed and need administrative support, but "not make decisions on their behalf", says Nevzat Özgüven, a mechanical engineer at the Middle East Technical University (METU) in Ankara, and one of the report's authors.
However, the ruling Justice and Development Party (AKP), which has won six consecutive parliamentary elections since first coming to power in 2002, has not responded to the report. Although it has overseen a near-trebling of universities, from 76 in 2002 to 208 in 2022, the AKP government has also tightened its grip on universities, especially after an attempted military coup in 2016.
YÖK ordered more than 8,500 university staff to resign during a state of emergency after the failed coup. Although the emergency was lifted two years later, the AKP government changed the law to give Turkey's president the authority to appoint or dismiss university rectors without faculty elections in public and private universities. In 2021, academics and students at Boğaziçi University in Istanbul protested against the appointment of a rector who was not a faculty member. Around 40 students were arrested and 16 academics were suspended at the time, and protests are continuing.
Özgüven was elected by academic colleagues to be METU's rector in 2016, having received the most votes among 10 candidates, according to METU. But YÖK, instructed by president Recep Tayyip Erdoğan, revoked the election results and appointed the second-placed candidate, petroleum engineer Mustafa Verşan Kök.
In March, the Brussels-based European University Association placed Turkey at the bottom of a scorecard of 35 European higher education systems for autonomy and academic freedom. "The involvement of public authorities in university governance is extensive and stands out as an exception in Europe, Türkiye being the sole case where the rector's selection is not in the hands of universities themselves," the report states.
Applications to work at Sabanciı University from researchers at universities outside Turkey declined sharply after the coup attempt, says Atılgan. "They want us to do research, but it cannot be independent of free thinking," adds Atılgan, who is also president of the Science Academy, a scientists' non-governmental organization, and one of the report's co-authors. She fears that unless universities win greater autonomy, younger generations will see no future in Turkey. "If the best brains in my lab that want to go into research don't want to stay here, then who am I going to do research with?" says Atılgan.
In its election manifesto, the AKP promises to change the administrative structure of government-run universities, and to increase autonomy through the formation of a board of trustees. It also pledges to increase the annual number of doctoral graduates.
But researchers question if this will stop government interference. If the AKP wins, "we will do our best to pass all these findings [of the report] to them and to convince them that this is for the sake of the country, to make Turkey a better country, with more universities internationally recognized within the top 100", says Özgüven. But "we don't know whether they will do it or not", he adds.
This year, Turkey is marking the 100th anniversary of the formation of the modern republic. "We cannot go into the new century of the republic like this; the next 100 years cannot be like this," says Taner Bilgiç, an industrial engineer at Boğaziçi University, and another co-author of the report.
"The job of YÖK is simply to do a coordinating job, but they do much more than that, they use it as a punishing stick," says Bilgiç.
Nature approached both Turkey's science council, TÜBITAK, and YÖK. The science council was unable to arrange interviews before this article went to press. YÖK did not respond to requests for comment.