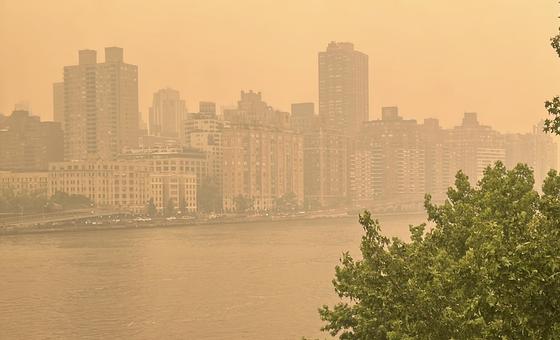 The news came as the UN chief released a strongly worded statement on a record summer of global warming in the northern hemisphere, according to the European Union's climate service Copernicus.
Earth has just experienced its hottest August on record – by a large margin – and the second hottest month ever after this July. Factoring in June, they represent the hottest three month period ever, the data indicates. 
The year overall is the second warmest on record behind 2016. 
Dog days bite back
"Our planet has just endured a season of simmering – the hottest summer on record," said UN Secretary-General António Guterres, warning "climate breakdown has begun".
"The dog days of summer are not just barking, they are biting", continued the UN chief, describing the consequences of humanity's unleashed fossil fuel addiction. 
As the climate crisis provokes more and more extreme weather worldwide, the UN Secretary General called on leaders to "turn up the heat now for climate solutions." 
Heatwaves factor
The 2023 WMO Air Quality and Climate Bulletin – coming on the heels of the Secretary General's statement – puts the spotlight firmly on the damage caused by heatwaves.
It notes that high temperatures are not only a hazard by themselves, but they also trigger damaging pollution.
Based on the 2022 data, the report shows how heatwaves fanned a dangerous drop in air quality last year. 
"Heatwaves worsen air quality, with knock-on effects on human health, ecosystems, agriculture and indeed our daily lives," said WMO Secretary-General Prof. Petteri Taalas, commenting on the report's findings, adding that climate change and air quality must be tackled together to break a vicious circle.
Climate change brew
Climate change is increasing the frequency and intensity of heatwaves.
"Smoke from wildfires contains a witch's brew of chemicals that affects not only air quality and health, but also damages plants, ecosystems and crops – and leads to more carbon emissions and so more greenhouse gases in the atmosphere," explained Lorenzo Labrador, a WMO scientific officer in the Global Atmosphere Watch network which compiled the Bulletin.
Last summer's northern heatwave led to increased concentrations of pollutants such as harmful particulates and reactive gases such as nitrogen oxides.
In Europe, hundreds of air quality monitoring sites registered levels exceeding the World Health Organization's (WHO) ozone air quality guideline levels of 100 μg m–3 over an eight-hour exposure. 
Urban heat islands need trees
When it comes to heat, city dwellers usually experience the most intense conditions.
With dense infrastructure and numerous tall buildings, urban areas end up with temperatures that are much higher compared to the rural surroundings.
This effect is usually referred to as creating an "urban heat island". The magnitude of temperature difference varies but may reach up to 9°C at night.
As a result, people who live and work in cities, experience dangerous heat stress even at night.
There is a solution, though. A study in São Paulo, Brazil showed that both temperature and CO2 measurements are partly mitigated by incorporating more green spaces within cities, pointing to the benefits of nature-based solutions for climate change.
WMO released its report on the eve of the International Day of Clean Air for blue skies marked on 7 September. The theme this year is Together for Clean Air, focusing on the need for strong partnerships, increased investment and shared responsibility to overcome air pollution.