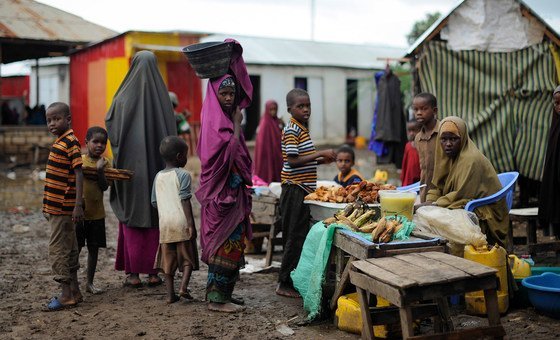 UNMAS issued a statement saying it was "deeply saddened and profoundly alarmed" by the deaths of 27 civilians, including 22 children, in a "tragic incident" involving unexploded ordnance (UXO) that occurred on Friday in the Lower Shabelle region. 
Fifty-three people were also injured. 
Innocent lives lost 
"UNMAS expresses its sincere condolences to the families affected by this devastating event and shares in their grief and pain during this incredibly difficult time," said Justin Smith, the agency's chief in Somalia. 
"The loss of innocent lives, especially children, is an immense tragedy that underscores the urgent need for heightened efforts to address the dangers posed by explosive ordnance in Somalia," he added. 
UNMAS was established in 1997 and its work goes beyond removing landmines from the ground in countries affected by armed conflict. 
'A stark reminder' 
Actions also address the problem of UXO, which are weapons such as bombs, mortars, grenades and missiles that failed to detonate.  In many countries they pose an even greater threat to safety than landmines, according to its website. 
UNMAS said the incident in Lower Shabelle serves as a stark reminder of the ongoing threat faced by civilians, particularly children, in conflict-affected areas, and highlights the critical importance of swift and decisive action to mitigate the risks associated with explosive remnants of war.  
The UN, through UNMAS and its partners, has renewed commitment to working with the Government of Somalia, international organizations, and relevant stakeholders to strengthen mine action efforts.  
Intensify collective efforts 
"Together, we must intensify our collective efforts to eliminate the risks posed by explosive ordnance and safeguard the lives of vulnerable individuals, particularly children," Mr. Smith said. 
Since 1991, the UN has been engaged in advancing peace and security in Somalia, where African Union peacekeepers support national forces in their ongoing battle against Al-Shabaab militants. 
Last Friday also saw a deadly attack on a hotel in the capital, Mogadishu, which left 16 people dead, including a staff member of the World Health Organization (WHO). 
"We condemn all attacks on innocent civilians and humanitarian aid workers and express our deepest condolences to the family members of all those who were killed in this attack," said Malik Mamunur, WHO representative in Somalia.