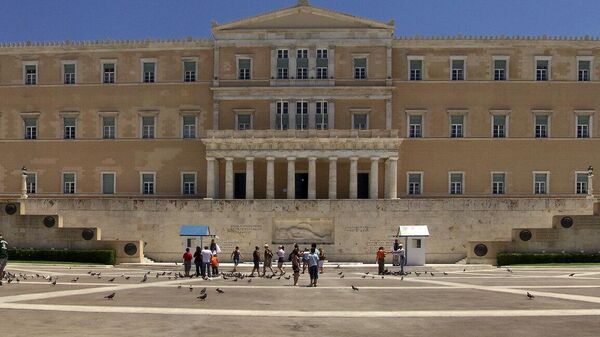 ATHENS (Sputnik) – The conservative New Democracy party, led by former Greek Prime Minister Kyriakos Mitsotakis, has won 40.52% of the votes and receives 158 out of 300 seats in the parliament during the snap elections, the Greek Interior Ministry said on Sunday after counting over 90% of the votes.
Mitsotakis' party is followed by the left-wing opposition party Syriza with around 17.9% of the votes and 47 seats, with the Panhellenic Socialist Movement and the Communist Party of Greece receiving some 11.96% and 7.61% of the votes, respectively, the interior ministry added.
A total of eight parties are expected to make it into the parliament, whereas only five parties managed to do so during the previous elections on May 21.
Following the announcement of preliminary election results, Mitsotakis made a statement, vowing to transform the country over the next four years and improve life of Greek citizens.
"With today's election results, Greece has opened a new chapter in its course. For the second time in recent several weeks, citizens sent a signal on the continuation of the course we charted four years ago and gave us a strong mandate to move faster on the path of big changes our country needs," the former prime minister stated.
Cypriot President Nikos Christodoulides said that he had called Mitsotakis to congratulate him on the election victory.
"I contacted the [former] Greek Prime Minister, my friend Mitsotakis, and congratulated him on a big win. We will meet each other in coming days in Brussels [at the EU summit], he will visit Cyprus soon," Christodoulides tweeted.
The snap parliamentary elections were announced in late May after no party won an absolute majority in the parliament during the previous round on May 21. This time, the vote was held under the proportional party list system, in which several candidates are elected based on their position on the electoral list proposed by their party. The leading party is rewarded with up to 50 bonus seats.