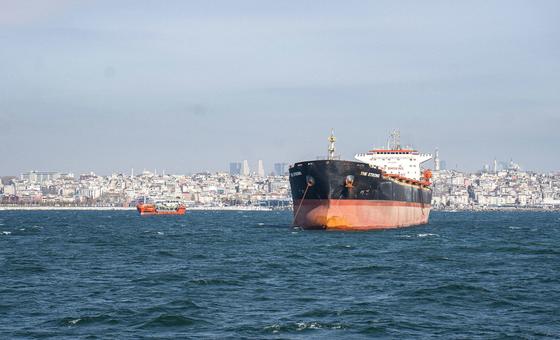 In a statement issued by his Deputy Spokesperson, António Guterres reiterated "the importance of full and continued implementation" of the agreements signed last July in Istanbul, known as the Black Sea Initiative – allowing Ukrainian grain and foodstuffs safe passage to world markets – and the Memorandum of Understanding with Moscow over fertilizer exports.
Russia is still weighing up if it will continue to be a part of the deal, agreed with Ukraine and administered along with the UN and Türkiye, past a deadline of 17 July. Last May, Russia had agreed to a 60-day extension, and the UN has been leading negotiations to ensure its continuation.
A Joint Coordination Centre in Istanbul with representatives from all parties administers the deal, but in recent weeks, shipping movements have declined along with vessel inspections.
Smooth passage
The UN chief's statement said it was vital to ensure that food and fertilizers from Ukraine and Russia can keep on heading to countries in need, "smoothly, efficiently and at scale".
"These agreements are an all-too-rare demonstration of what the world can do when it puts its mind to the great challenges of our time," he said.
"Together, the agreements are contributing to sustained reductions in global food prices, which are now more than 23 per cent below the record highs reached in March last year."
Harvest season approaching
Earlier on Friday, the UN Food and Agriculture Organization's chief economist, Maximo Torero, said the initiative to allow grain to leave Ukrainian ports had allowed the delivery of 32 million tonnes, much of it to meet the needs of developing nations, as well as food aid for the World Food Programme (WFP).
The renewal would happen on "a critical date because it's when the harvest starts", he said. "We hope it will be renewed, and if not, then we will observe a spike in terms of the prices of cereal commodities."
'Lifeline' for food security
In a note to correspondents last week, the UN said the agreements were "a lifeline for global food security" at a time when 258 million people face hunger in 58 countries.
"The Secretary-General and his team remain fully committed to building on the progress already made and are in constant contact with a wide range of stakeholders in this regard," the Deputy Spokesperson, Farhan Haq, said in his Friday statement.
"The Secretary-General calls on all concerned to prioritize global food security," he said.