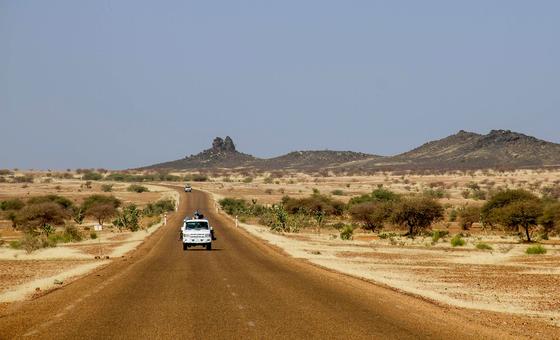 In a statement, the head of the UN peacekeeping mission in the country (MINUSMA), El-Ghassim WANE, described the attack on the security patrol in Ber town, in the Timbuktu region, as a "cowardly act".
"This tragic loss is a stark reminder of the risks that our peacekeepers face while working tirelessly to bring stability and peace to the people of Mali", he added.
The mission said the patrol was targeted in an attack that involved an Improvised Explosive Device (IED), followed by direct fire.
Tribute to 'brother in arms'
Mr. WANE extended his "heartfelt condolences to the government, brother in arms, and family of the fallen colleague" and wished a speedy recovery to the injured ones.
The safety and security of our peacekeepers remain a priority, and every effort will be made to enhance their protection in the face of evolving security challenges in Mali, MINUSMA said.
"MINUSMA reaffirms its commitment to the people of Mali and its determination to continue its mission in supporting peace and stability in the country. The Mission will work closely with the Malian authorities to investigate the incident and bring the responsible individuals to justice."
Briefing correspondents in New York on Friday, UN Spokesperson Stéphane Dujarric echoed Mr. WANE's condemnation of the attack, and tribute to the fallen peacekeeper, adding that the death marked the ninth just this year, in Mali – which has long been the most dangerous place to serve as a peacekeeper.
The head of UN Peacekeeping, Jean-Pierre Lacroix, also joined the condemnation over the deadly attack, praising the tireless commitment of those who serve in the mission.
History of insecurity
MINUSMA was established a decade ago, following rampant insecurity in the north of Mali, and a failed military coup by extremist militants, which led to the signing of a peace deal between the government of the day and armed group coalitions, in 2015.
Mr. WANE briefed the Security Council in April, warning that extremist groups had been forced into regions like Timbuktu and Gao after successful Malian military operations, and begun increasingly to use IEDs to hamper ground movements of defence and security forces. MINUSMA is assisting with a three year stabilization strategy for the centre of the country, which relies on closer coordination between the mission and Malian forces, he told the Council.
The military led Government is due to facilitate elections and the restoration of full constitutional order by a deadline of March 2024.